Page 1 - Sentinel Feb 2017
P. 1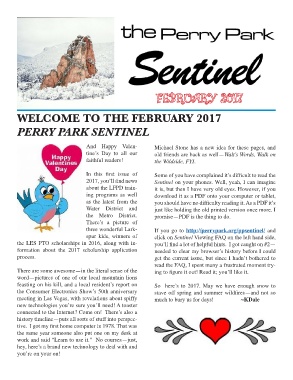 FEBRUARY 2017

WELCOME TO THE FEBRUARY 2017
PERRY PARK SENTINEL

                                    And Happy Valen-        Michael Stone has a new idea for these pages, and
                                    tine's Day to all our   old friends are back as well—Walt's Words, Walk on
                                    faithful readers!       the Wildside, FYI.

                                    In this first issue of   Some of you have complained it's difficult to read the
                                    2017, you'll find news   Sentinel on your phones. Well, yeah, I can imagine
                                    about the LFPD train-   it is, but then I have very old eyes. However, if you
                                    ing programs as well    download it as a PDF onto your computer or tablet,
                                    as the latest from the  you should have no difficulty reading it. As a PDF it's
                                    Water District and      just like holding the old printed version once more. I
                                    the Metro District.     promise—PDF is the thing to do.
                                    There's a picture of
                                    three wonderful Lark-   If you go to http://perrypark.org/ppsentinel/ and
                                    spur kids, winners of   click on Sentinel Viewing FAQ on the left hand side,
the LES PTO scholarships in 2016, along with in-            you'll find a lot of helpful hints. I got caught on #2—
formation about the 2017 scholarship application            needed to clear my browser's history before I could
process.                                                    get the current issue, but since I hadn't bothered to
                                                            read the FAQ, I spent many a frustrated moment try-
There are some awesome—in the literal sense of the          ing to figure it out! Read it; you'll like it.
word—pictures of one of our local mountain lions
feasting on his kill, and a local resident's report on      So here's to 2017. May we have enough snow to
the Consumer Electronics Show's 50th anniversary
meeting in Las Vegas, with revelations about spiffy         stave off spring and summer wildfires—and not so
new technologies you're sure you'll need! A toaster
connected to the Internet? Come on! There's also a          much to bury us for days!  ~KDale
history timeline—puts all sorts of stuff into perspec-
tive. I got my first home computer in 1978. That was
the same year someone also put one on my desk at
work and said "Learn to use it." No courses—just,
hey, here's a brand new technology to deal with and
you're on your on!